BUY ANY 2 TAKE 20% OFF | USA Free Shipping Over $50
Regular price
Sale price
$94.99 USD
Unit price
per
Sale
Sold out
Product Highlights
Optimal Support: Elastic rope secures the bed surface, while the suspension structure provides comprehensive body support for enhanced comfort.
Versatile Recline: The adjustable backrest offers 5 angles (120°/140°/155°/170°/180°), combining recliner and bed functions to suit various scenarios.
Personalized Comfort: Additional foam pillows are secured with elastic bandages, allowing customizable head support for a more comfortable experience.
Convenient Storage: Layered side pocket design holds magazines, water cups, and more. Detachable structure ensures easy cleaning and adjustment, keeping outdoor essentials close at hand.
Easy Transportation: Dual carrying options with side adjustable shoulder strap and hand strap design. Anti-spread buckle adds convenience to carrying.
Durable Fabric: High-density tear-resistant Oxford fabric is built to last, ensuring durability and longevity.
Sturdy Framework: Steel tube bracket with surface spray treatment offers anti-corrosion properties and enduring strength.
Robust Support: U-shaped bracket structure guarantees robust support, while non-slip foot covers ensure enhanced stability.
Secure Design: Slot-type bracket connectors provide a stronger hold, ensuring stability and durability.
Effortless Setup: 60-second quick open three-fold bracket structure simplifies usage (usable when bed surface and bracket are unfolded). Adapt to diverse settings with ease.
Product information
| | |
| --- | --- |
| Brand | #WEJOY |
| Color | Black;BLUE;CYAN /1 Pack |
| Material | 600D Oxford Fabric + Alloy Steel |
| Product Dimensions | 74.8"D x 23.2"W x 13.5"H |
| Item Weight | 14.8 Pounds |
| Back Style | Solid Back |
| Frame Material | Alloy Steel |
| Special Feature | Adjustable, Folding, Portable, Durable, Heavy-duty, Ergonomic, Lightweight |
| Product Care Instructions | Wipe Clean |
| Unit Count | 1.0 Count |
| Seat Material Type | Alloy Steel |
| Recommended Uses For Product | Beach,Lounge,Outdoor,Sunbathing |
| Maximum Weight Recommendation | 264 Pounds |
| Style | Modern |
| Pattern | Solid |
| Room Type | Office, Patio Garden |
| Age Range (Description) | Adult |
| Surface Recommendation | Hard Floor |
| Item Weight | 14.8 pounds |
| Manufacturer | #WEJOY |
Share
View full details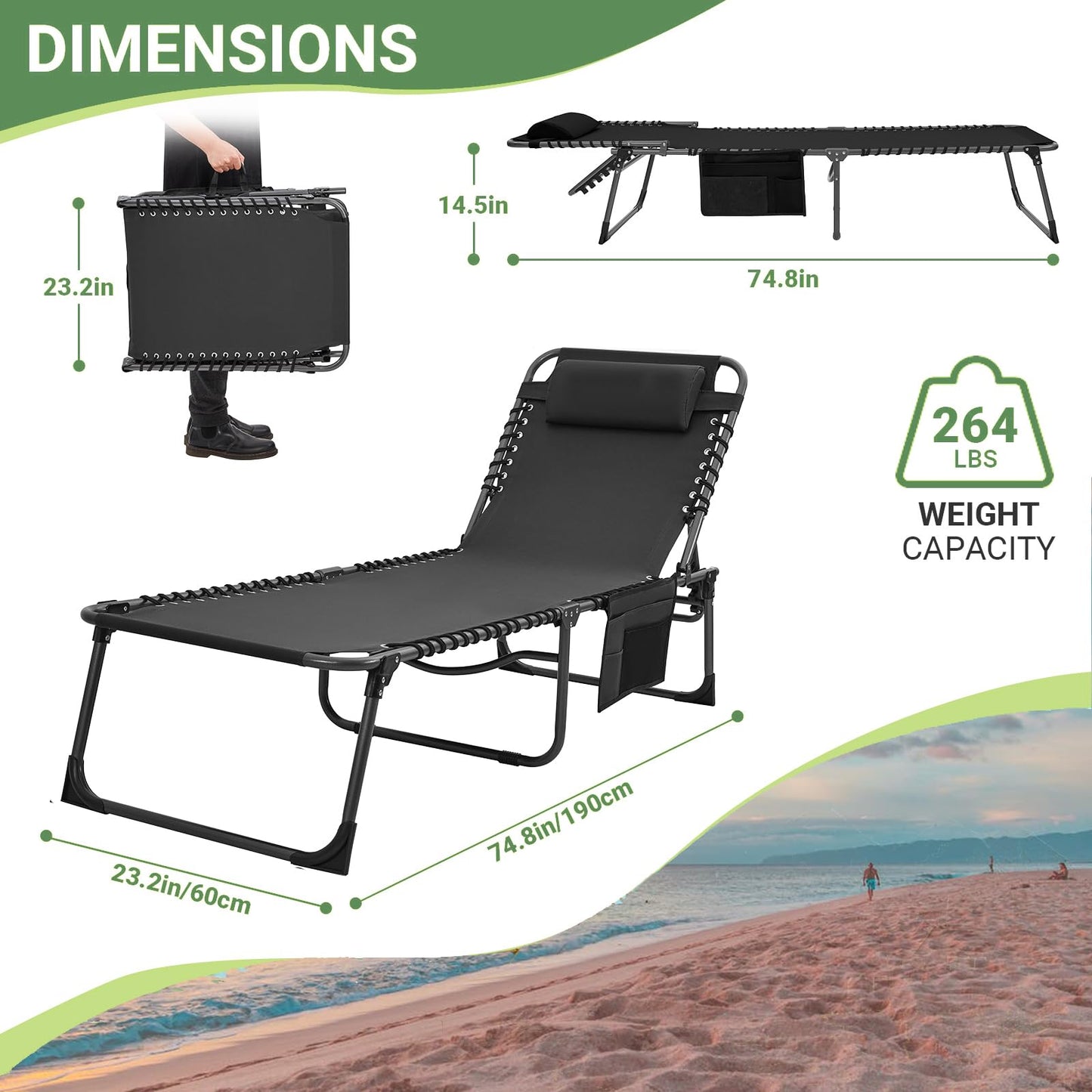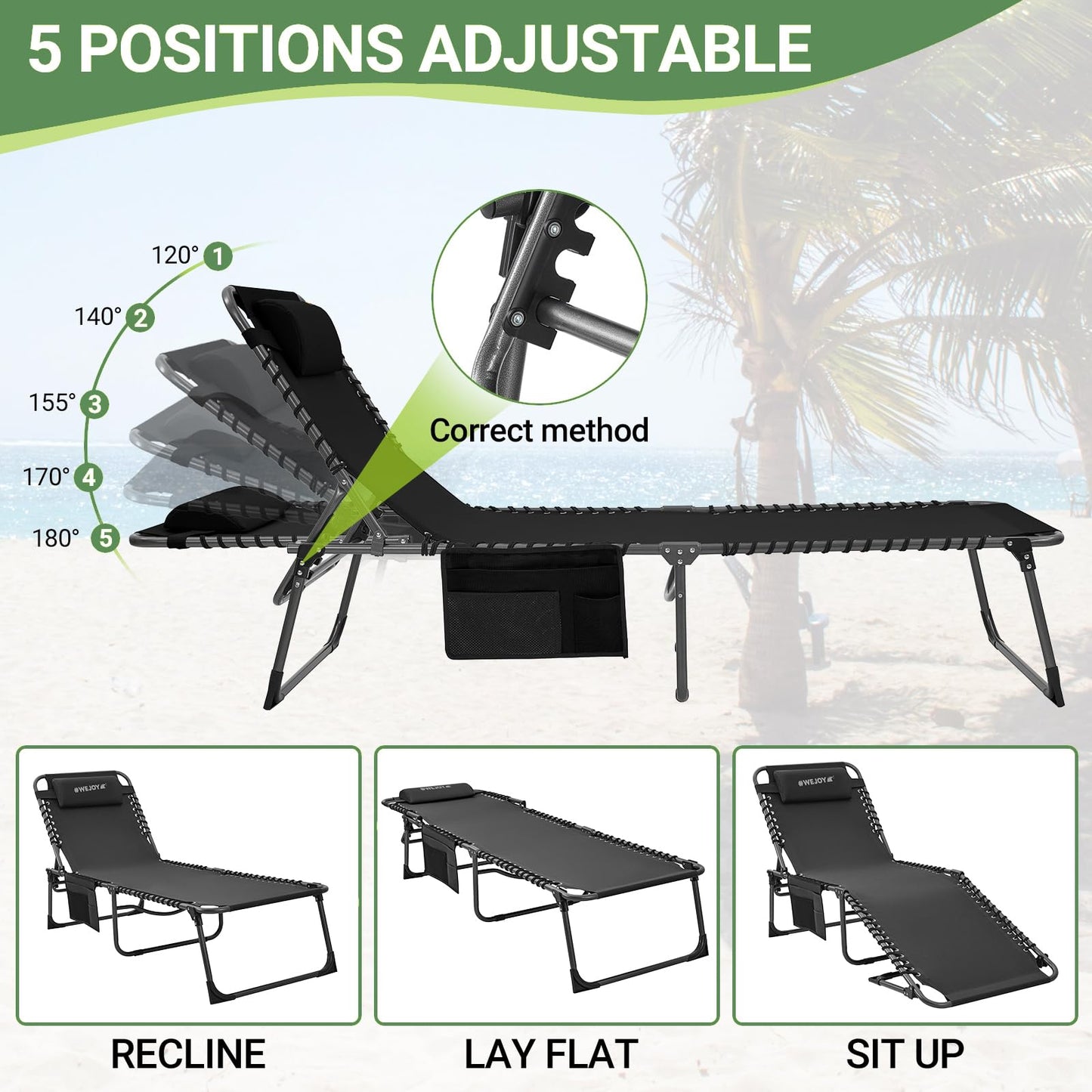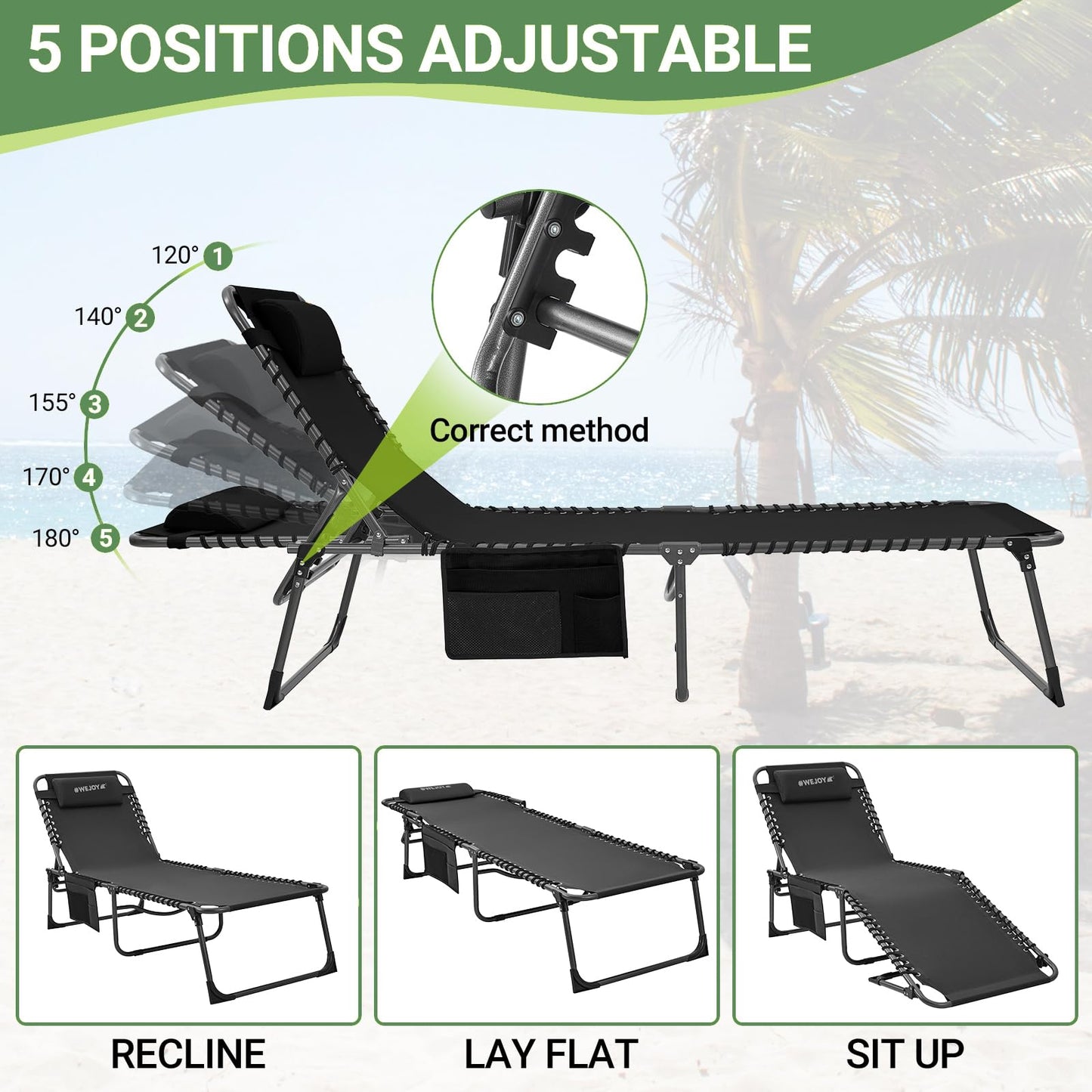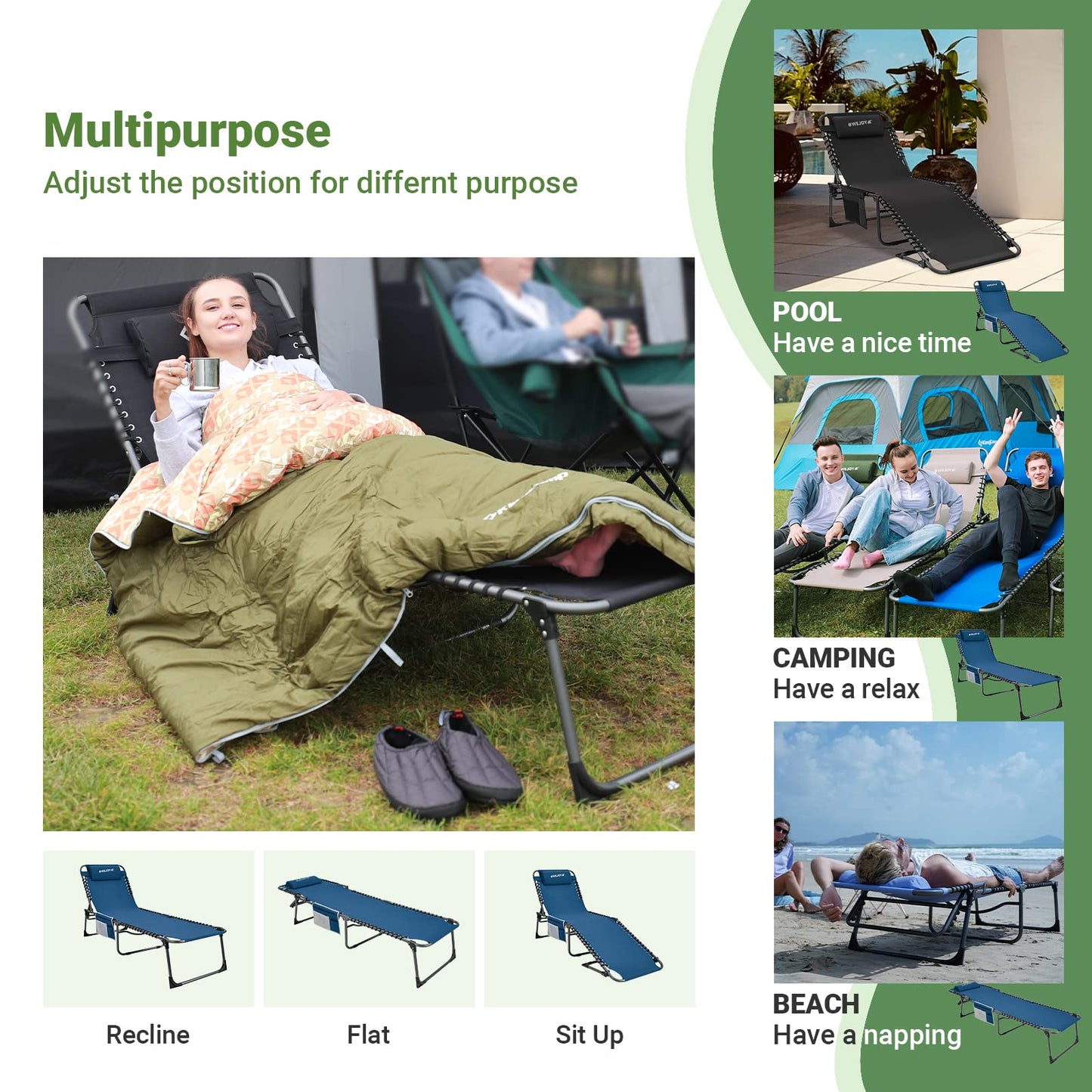 So Comfy
This lounger is easy to set up and adjust. It's pretty sturdy as my husband, who is about 300lbs (approx 136kg) was able to lay comfortable for a bit. I found it pretty comfortable without the cushion but once the cushion was added, I actually ended up falling asleep on it. The cushion is very soft and folds easily. I'm storing it in a vacuum seal bag when not in use. I have not left it out in the rain so I'm not sure about any water repellant properties of the cushion but judging from the material, I wouldn't think so. The lounge itself though seems pretty water resistant but I would still take care to wipes excess water from the frame to prevent rusting. Overall, I really like this.
Awesome chair
I love this chair! First, it came assembled. That was a great bonus when I opened the box. I was dreading putting together a chair. I haven't opened or put the cushion on. It's too hot right now. This chair is very comfortable and has so many different positions you can put it. I ordered 2 different chairs earlier in the season and I was so sad that I couldn't lay on my stomach to tan, had I come across this one, I would have gotten 2 of these earlier on. It works for different heights too. I'm 5'6" and it fits me great, I had my husband who is 6'3" sit in it and we had to adjust it a little, but he too thought it was comfortable.
The head rest is adjustable for if you want it behind your neck or your head. It reclines to different levels and the foot adjustment is nice too.
The fabric is very durable and soft. I would recommend this chair and I would get it again and I just might get another one to match this one.
I like how it is so sturdy, it won't flip over or blow away.
The chair is huge!
This was a bit difficult putting together as I had a very small area to set it up in. This chair is huge! I previously used a gravity chair in this area on my deck, and this lawn chair is larger than that chair was. The chair is real sturdy and the mattress is very cushy.
Nice One
The best thing about this chair is the versatility. You can have the legs down or up, while simultaneously having the backrest up (at 4 different height/angle options) or laying completely flat. It's a really nice feature. The bungee/elastic rope the use on this is really strong and seems to be awesome quality so far. It's one of the things I was worried about the most before we got this, but it hasn't given us any problems.
Not perfect but good
So I ordered this before I went on my camping trip and unfortunately it didn't arrive in time. It wasnt the fault of the seller, it's just that I ordered it late. Now, after receiving it, what's it like? Well, I was originally going to use it as a sleeping cot and as such, it does a pretty good job at it. It lies totally flat which I really appreciate. The back has multiple angles from fully flat to about 75 degrees. It also has angle adjustments at about where your knees would be so that it can tilt downwards about 35 degrees so that you can sit up and have your legs angled downwards instead of flat across if you like. The whole fabric is held together by elastic cordage so that there's plenty of springs when you use it. My only concern there is that if/when that elastic cordage deteriorates, how do you change it out? The thing I don't really like about it is that it's pretty heavy. Not super heavy but probably about a good 15 lbs which is a little too bulky to take camping. Also, when it collapses down, its got a footprint of about 36" X 36" which isn't that small. My camp cot collapses down into a bag the size of one of those pop up camping chairs and is much more manageable. This cot also comes with a full length padding. It provides some cushioning but is much too flimsy for it to really provide much support. Overall, it's not a bad lounge chair/cot but also not perfect.